Banner ePrint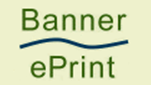 ---
What is e~Print ?
e~Print is a web-based system for securely and quickly presenting Banner Reports to end users. Using a web browser and the free Adobe ® Acrobat Reader, e~Print users can view reports in a user friendly format that is easy to read, search and print.
When do I use e~Print ?
Use e~Print to view reports to complete the Monthly Departmental Review or to perform data searches. If needed, reports can be printed at the user's desktop printer.
Which reports will I see on e~Print ?
Many Financial, Human Resources, Student, and Accounts Payable reports are available in e~Print.
How to Request e~Print Security Access?
To gain e~Print security access to Banner Finance reports, please complete a Banner Finance Security Form located on Pirate Port.  On the Banner Finance Security Form, please select GL SSB and inquiry and Budget Transfers and the appropriate Organizations and this will grant security access to the financial reports.
How do I use e~Print ?
e~Print is a user friendly product, and training is available. The e~Print Training dates are listed on Pirate Port under Cornerstone Employee Training. If you have e~Print questions contact Penney Doughtie, at 328-2706 or doughtiep@ecu.edu.
Instructions_to_view_ePrint_Reports